Meeting Agenda Software Review
In this meeting agenda software review, we tested several web-based applications which are more professional due to their unique feature sets and market focus. Our selection covered MeetingKing, MeetingBooster, LessMeeting, and YAM because they are more aligned with corporate use.
There are other options available and users may also be interested in ZippyMeetings and MeetingSense. All of these meeting agenda software tools simplify the process of creating an agenda and running a meeting when compared to using pen and paper or MS Word.
Professional meeting agenda software is used for corporate meetings, board meetings and staff meetings. Therefore, the review is focused on features important to these areas.
Meeting Agenda Software Detailed Comparison
Not Available: 0

Worst in Class: 1

Below Average: 2

Average: 3

Above Average: 4

Best in Class: 5
Total
222
88
52
51
Integration with Email Systems
Outlook
5
4
0
0
Gmail
3
4
4
4
Other
3
4
4
4
Meeting Preparation
Schedule
5
4
3
4
     Calendar Synch
4
4
1
1
     Conflict Resolver
5
0
0
0
Agenda
5
3
3
3
     Time Distribution
5
0
0
0
     Presenter identification
5
1
1
1
Pre-meeting tasks
4
2
2
2
Running the Meeting
Role Assignments
5
0
0
0
Note taking
5
3
3
3
     Attendee Specified
5
0
0
0
Task allocation
4
4
4
4
Meeting tools
4
0
0
3
Parking
5
4
4
3
Post Meeting
Meeting minutes
5
4
3
3
     Access Control
5
3
3
2
     Signature Page
4
0
0
0
Archive
4
4
3
3
Task  management
4
3
4
3
Reminders
4
2
2
2
Search
5
3
3
3
     Merge / Save Results
4
0
0
0
Performance Analytics
Dashboards
     Attendance
5
3
0
0
     Cost
5
2
0
0
     Global Task Status
5
2
0
0
KPI Reports
     Best Meetings
5
0
0
0
     Best Host
5
0
0
0
     Best Attendee
5
0
0
0
Opportunity Reports
     Enhance Efficiency
5
0
0
0
     Reduce Costs
5
0
0
0
Feedback
     Performance Ratings
5
4
2
1
     Hidden Strengths
5
0
0
0
     Blind Spots
5
0
0
0
Admin
Permission System
5
2
2
2
     Security Roles
5
0
0
0
     User Hierarchy
4
0
0
0
     Teams
4
3
1
0
Active Directory
4
0
0
0
Single Sign On 
4
0
0
0
Log File
4
0
0
0
Hosting
Dedicated Hosting 
5
0
0
0
Local hosting
5
0
0
0
Hosting Partner Certifications
HIPPA
5
3
0
0
SAS70
5
5
0
0
Safe Harbor
5
3
0
0
ISO 27001
5
5
0
0
Total
222
88
52
51
Integration
For a meeting agenda software program to be accepted in a corporate environment, it should integrate with current systems that are in place. MeetingBooster and LessMeeting have an Outlook plugin that lets users synchronize calendar appointments for meetings between the two systems.
The plugin also allows for quick access to contacts which is helpful when creating the invitations. MeetingBooster's integration went further, allowing a user to launch the Agenda module directly from Outlook.
Each of the programs allowed users to include an iCal feed for attendees working with Gmail or other email clients.
MeetingBooster is also integrated with screen sharing tools like GoToMeeting and WebEx. This helps by combining the MeetingBooster and Webinar details into one invitation, simplifying the process for inviting attendees.
Agenda Reminders
When scheduling a meeting, often times a meeting organizer may not be ready to complete Agenda. MeetingBooster was the only meeting agenda software that reminded an organizer that they had not yet completed or distributed a meeting agenda prior to the meeting. This proved advantageous to ensure that the meeting was properly prepared for.
Creating the Agenda
MeetingBooster's unique Meeting Agenda module proved to be the most effective when creating the meeting agenda. The other tools use the same module for creating the agenda and taking the minutes. A specific Agenda module forces users to pre-plan the topics prior to the meeting.
This helps manage the meeting time by forcing the users to pre-plan their agenda topics and times rather than adding topics on the fly which typically extends the original meeting time.
MeetingBooster's agenda module was very similar to a standard MS Office program's interface, incorporating an icon-based ribbon system for easy navigation and understanding.
Meeting Agenda Templates
The process of building the meeting agenda can be overwhelming by nature, and MeetingBooster was the only meeting agenda software that provided several pre-made corporate style templates to assist users in developing their agenda. These templates could be customized as needed, making it a very powerful feature.
There were also options to use a past meeting's agenda when creating the new agenda in MeetingBooster.
Topic Presenters and Times
Building the Agenda topics is only part of the process. Users must identify if a specific presenter will be needed to discuss a certain topic. Further, designating the appropriate time for a topic can be cumbersome.
MeetingKing, LessMeeting and YAM allowed us to create the topics quickly, however there was no way to select a presenter. This could be added by hand, but a user would need to know the presenters name and hand type it in, rather than selecting them from a drop down like we could do in MeetingBooster.
Calculating and distributing topic times is one of the more difficult stages of building a meeting agenda. Especially when you are adding or removing topics. MeetingKing, LessMeeting and YAM let us add topic times, however MeetingBooster's unique Time-Distribution feature was extremely helpful in that you could manually enter times, or use the auto distribute feature to spread the time over specific topics. The option to lock an important topic in place proved to be advantageous for corporate use, especially when building a large meeting agenda.
Parked Topics
All four meeting agenda software tools allowed us to add a previously parked topic in the new meeting's agenda. The difference however was which topics could be parked during a meeting and carried over. MeetingKing, LessMeeting and YAM allowed users to Park only main topics whereas MeetingBooster allowed us to Parka a topic at any level making it easier to bring in only the topics that were needed discussion.
Pre-meeting Tasks
When creating a meeting agenda, often times attendees must prepare for discussions or topics. MeetingBooster was the only meeting agenda software that allowed us to create specific pre-meeting tasks and have the option to assign these pre-meeting tasks to an agenda topic.
These tasks were also distributed to the attendees automatically prior to the meeting, and the status of these tasks was reviewed automatically prior to running the meeting. This is a very nice feature to improve accountability and meeting preparedness.
Collaboration on the Meeting Agenda
When building a meeting Agenda, getting input from others can help to streamline this process. MeetingKing and LessMeeting utilized standard emails to suggest topics, however MeetingBooster allowed an organizer to add one or more "Co-Hosts" to the meeting. This Co-Host role, gave that user the ability to log into the system and help in the agenda building process.
Distributing the Meeting Agenda
When users receive a meeting invitation, it benefits the attendees to also receive the Agenda. Standard information such as Date, Time and Attendees was present in all four meeting agenda software tools that we reviewed.
MeetingBooster also added a Meeting Purpose to the Agenda, and LessMeeting offered a Meeting objective. This helps attendees to know in general what the meeting will be about. We found that the way in which MeetingBooster laid out the Agenda and details was more professional than the others and even offer several looks for the Agenda and the ability to add a cover page, company logo, etc.
The agenda was also automatically distribute to attendees as a formatted PDF and was accessible through the online system.
Conclusion
The conclusion of this professional meeting agenda software review is that all four applications provide impressive features and all four would be a good addition to any corporations meeting agenda process.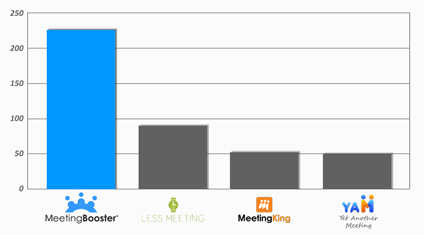 MeetingBooster scored highest in this review because of its MS Office style friendliness and powerful productivity features like agenda templates, time distributor and pre meeting tasks. Above all, MeetingBooster proved to be more of a corporate level tool, whereas the other reviewed tools seemed to focus on smaller size organizational meetings.